Owned, maintained, and © copyrighted 2015 by Danny Oglethorpe,
member of Worldwide TV - FM DX Association. This is a DX site, and it does not endorse any programming displayed on these pages.
---
100+ Mexico TV IDs Page 2
IDs from 100+ Mexico TV Stations
TEXT ID
XHCCH-5 Cd Cuauhtemoc (2001)
TEXT ID
XHCH-2 Chihuahua (2001)
TEXT ID
XHIT-4 Chihuahua (1997)
TEXT ID
XHFI-5 Chihuahua (2000s)
ID upper right reads:
XHFI-TV CANAL 5
T E L E V I S A
CHIHUAHUA CHIH.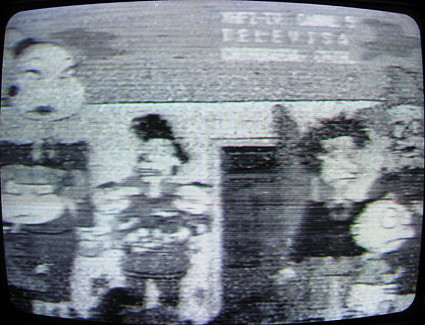 TEXT ID
XEPM-2 Cd Juarez (2000)
Relaying XEW-2.
Prior to becoming independent tucanal
XEJ-5
Cd Juarez, CHIH
747 miles via E-skip
June 13, 2010

TEXT ID
XEJ-5
Cd Juarez, CHIH
747 miles via E-skip
Text ID upper left
May 25, 2014

FORMER XEFB-2 SHADOW STATION
XHCNL-2 Saltillo, COAH
"MTY TV" upper right
June 28, 2012
XHAE-5 Saltillo (June 2011)
"Hoy Saltillo"
TEXT ID
XELN-4 Torreon, COAH (2003)

TEXT ID
XHPNG-6
Piedras Negras, COAH
477 miles via Tropo
Text ID upper right reads:
XHPNG-TV CANAL 6
PIEDRAS NEGRAS COAH
XHPN-3 Piedras Negras, COAH
Logo upper right
"Las Noticias Piedras Negras"
477 miles via Es
June 2011

TEXT ID
XHNCI-4 Manzanillo (April 2010)
ID reads:
XHNCI-TV CANAL 4+
MANZANILLO COL

TEXT ID
XHDRG-2 Durango (June 11, 2011)
877 miles via Es
Text ID upper left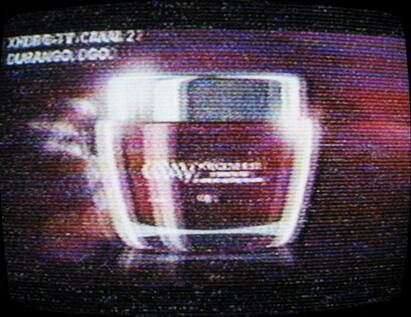 TEXT ID
XHDI-5 Durango (2002)
877 miles via Es
Text ID upper right reads:
DURANGO DGO
XHDI-TV CANAL 5
TELEVISA
18/08/02 09:30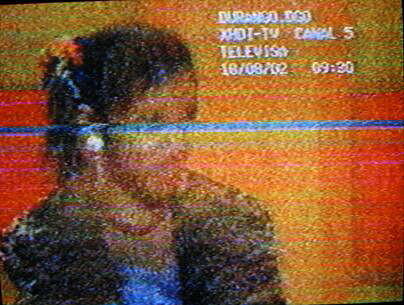 SHADOW STATION
TEXT ID
Channel 6
XHDI-6
Col. Los Remedios, DGO
Es
XHDI-5 text ID upper left
July 4, 2012
New Log in 2012
When this ID came up, my first thought was that my channel 6 TV was on the wrong channel.
Fortunately, the TV and VCR were both on channel 6.
SHADOW STATION
TEXT ID
XEZ-3
Cerro Culiacan
ID reads:
XEZ-TV C-3
C.CULIACAN,GTO.
TELEVISA
935 miles via Es
September 2009

SHADOW STATION
TEXT ID
XEZ-2 San Miguel de Allende (2003)
XHLGG-6 (No local ID material was received.
There are only two Multimedios stations on channel 6,
and XHLGG is the only one in western Mexico.)
Leon
Multimedios
919 miles via Es
2009

XHLEG-4
Leon
Note tiny 4 logo upper left
919 miles via Es
2007

TEXT ID
XHLGT-2 Leon (2005)
Before switching from XEW-2
relayer to independent.
As seen in VUD 6/2005.